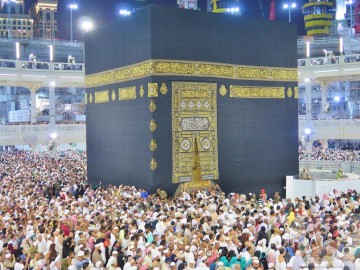 Akhir Ramadan
Depart for the Holy Pilgrimage Umrah this year with our big group Insya'Allah
– Medina
– Mecca
For More Umrah Pictures:- Click Here 
Imam Sadiq (A.S.) says: People who do Hajj and Umrah are justified to God. God will grant them whatever they have asked. If they pray he will accept, if they intercede, He will accept and if they remain silent, He himself begins to give them generously His favor and He grants them and instead of each dirham, He will grant them thousands of dirhams.
The great Messenger of God (S.A.W.) has been narrated a saying: Someone who circumambulates God's house seven times and says two units of prayers in the back of Magham (which is a holy place in Kaaba) and drinks Zamzm's water, all his sins will be cleared.
Prophet Muhammad Rasulullah S.A.W. says in his hadith narrated by At Tabarani: The merit of performing one solat in Masjidil Haram is equivalent to 100,000x prayers, the benefit of performing one solat in My Mosque (Masjidil Nabawi) is equivalent to 1,000x prayers and the benefit of performing one solat in Masjidil Aqsa is equivalent to 500x prayers
Cheap & Affordable Umrah Packages!
Perform your pilgrimage where Muslims around the world converge in Holy Mecca and Medina.
Our hotels are 5 star hotels and are located just beside these grand mosques so that pilgrim need not walk far. Less than 10 mins walk from the hotel to the mosques!
What's Included?
- Meals
- Accomodation
- Tours
- Guide
- Air Tickets
- Zam-Zam 5 Litres Per Person
- Trolley Bag
- Ihram / Hijab
- Many-many more!
Best Suited:
All, Budget, Families, Groups, Honeymoon, Kids, Luxury, Solo travelers
WHAT'S INCLUDED

Return economy flight from Singapore
All transfers, Entrance fees, Accommodations and Meals as mentioned
3x Guided Umrah
Wireless Guided Audio-System
1-yr Tourist Visa*, Saudi Covid Medical Insurance coverage, Tour Leader, Mutawwif, Umrah Course (Malay / English)
Gift Items: Cabin bag, Ihram or Women Jilbab, Shopping bag, Sling bag & Umrah Book
Zam-zam water (packed in small bottles / *subject to authorities)
NOT INCLUDED
Tips for Driver and Guide, Porters at the airport/hotels / room-cleaning tips/beverages, etc.
Excess Baggage, Travel Insurance (Not required, Optional)
PCR tests/injections (Not required, Optional) – e.g. Meningitis, Influenza,
NOTES
Itinerary/hotels/tours are subject to changes without prior notice.
Unexpected & unforeseen situations, changes to fuel surcharges / VAT / etc. will be informed accordingly