Packages Tours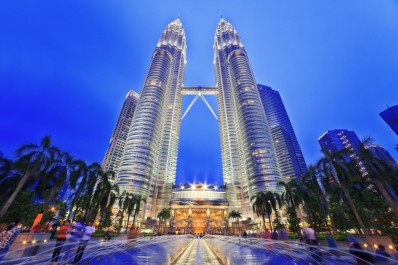 3D2N Kuala Lumpur Fun & Shopping
Welcome to Malaysia! A bubbling, bustling melting pot of races and religions where Malays, Indians, Chinese and many other ethnic groups live together in peace and harmony.
Multiculturalism has not only made Malaysia a gastronomical paradise, it has also made Malaysia home to hundreds of colourful festivals. It's no wonder that we love celebrating and socialising. As a people, Malaysians are very laid back, warm and friendly.
One of Malaysia's key attractions is its extreme contrasts. Towering skyscrapers look down upon wooden houses built on stilts, and five-star hotels sit several metres away from ancient reefs. Cool hideaways are found in the highlands that roll down to warm, sandy beaches and rich, humid mangroves.
For the perfect holiday full of surprises, eclectic cultures and natural wonders, Visit Malaysia, Truly Asia!
Batu Caves – An iconic and popular tourist attraction in Selangor. Site of a Hindu temple and shrine, batu caves attracts thousands of worshippers and tourists. A limestone outcrio located just north of Kuala Lumpure, Batu Caves has three main caves featuring temples and Hindu shrines. Its main attraction is the large statue of the Hindu God at the entrance, besides a steep 272 climb up its steps to finally view the stunning skyline of the city centre. Monkets frolic around the caves and it is a popular spot for rock climbing enthusiasts.
Sunway Lagoon– a multi-award winning theme park located just 15 minutes from Kuala Lumpur. Here you'll find five different theme parks in one amazing destination, with more than 80 rides and attractions to choose from. Take your pick from the Water Park, Amusement Park, Wildlife Park, Extreme Park and Scream Park, or spend the whole day park-hopping. Experience the world's largest man-made sandy surf beach, world's longest pedestrian suspension bridge, Asia's highest slingshot ride, Malaysia's first interactive zoo and one of Asia's longest flying fox trails. Sunway Lagoon has consistently been recognised as Asia's Best Attraction by the International Association of Amusement Parks and Attractions (IAAPA) for four consecutive years (2007- 2010).
Bank Negara Malaysia Museum and Art Gallery – drop into one of the best kept secrets in Kuala Lumpur. The Museum and Art Gallery is housed in the impressively sleek complex of glass and titanium, Sasana Kijang, the Central Bank of Malaysia's centre of learning excellence. Intended to appeal to both young and old, the Museum and Art Gallery is designed to be an informal educational avenue for anyone who seeks greater understanding on the Malaysian economy and its economic history, the Bank's role in the nation's economic development and financial regulation since 1959 to the present day. It also acts as the guardian to the nation's numismatics heritage, whilst the Art Gallery underlines the Bank's role as a patron of Malaysian arts with its impressive collection of over 1,500 contemporary Malaysian and ASEAN artworks acquired since 1962.
Petronas Twin Towers - Soaring to a height of 451.9 metres, the 88-storey twin structure is Kuala Lumpur's crown jewel. Majestic by day and dazzling at night, the PETRONAS Twin Towers is inspired by Tun Mahathir Mohamad's vision for Malaysia to be a global player. Together with master architect Cesar Pelli, the international icon powerfully captures the nation's ambitions and aspirations. Visit us and experience the PETRONAS Twin Towers first-hand. Begin your tour with interactive displays that showcase the journey, from idea to completion. Scale 170 metres in an elevator with a futuristic edge. The doors will open at the Skybridge, a connecting structure between the towers and the world's highest 2-storey bridge. Ascend even higher to level 86, where the story of Malaysia's vision unfolds amid breathtaking views of Kuala Lumpur. Then wrap up your visit with exquisite souvenirs at the gift shop.
Price Includes:
Return economy flight from Singapore as MENTIONED above.
Meals as MENTIONED above
All transfers in Private coaches
English speaking Guide
All entrance fees
Price Excludes:
Tips for Driver and Guide, Porters at the airport or hotels
Travelling Insurance
Own Meals and extra luggage (Excess)
Other beverage during meals
Note:
Sequence of itinerary is subject to change without prior notice.
If a place of visit is closed to visitors, it will be replaced with an alternative.
During special events, accommodation may not be in the city mentioned.
Tips Norm will be advised before departure
Download our SAMPLE itinerary (click below)